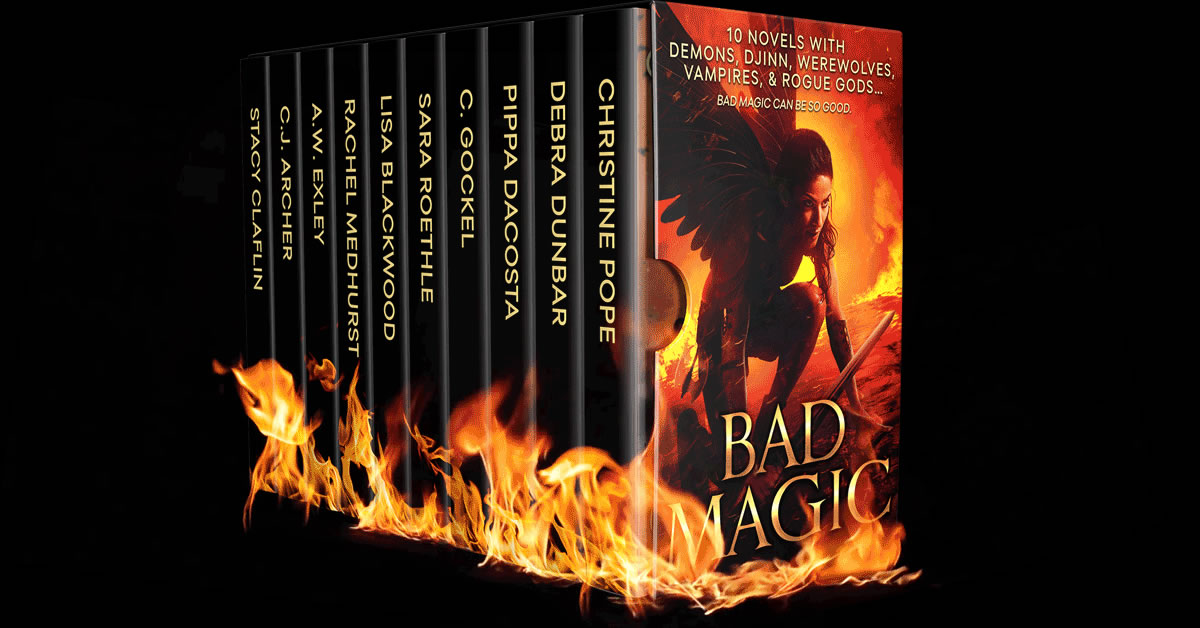 FREE at: Amazon, Nook, iBooks, Kobo, & GooglePlay
Christine Pope and I have created a new box set! This set has Christine's Chosen and my Wolves in it, but the rest of the titles are brand new and some have never been offered free before!
Bad magic can be so good …
These 10 full-length novels of paranormal romance and urban fantasy will keep you on the edge of your seat and up past the witching hour. Black magic, adventure, and romance … they're all here.
Something this good can't last forever … download this set before it's gone!
About the Books:
Chosen by Christine Pope
When a fatal fever nearly wipes out the entire world's population, the survivors of what became known as "the Dying" believe the worst is in the past …
Dead Rising by Debra Dunbar
Solaria Ainsworth was born a Templar, destined to take up the mantle of responsibility and duty as her family's Order had done for hundreds of years.
Except she refuses to take her Oath of Knighthood.
Hidden Blade by Pippa DaCosta
Kicked out of the underworld and cursed to walk this Earth for all eternity, Ace Dante is not the hero New York needs, but when Egyptian gods start killing, Ace is the city's only defense.
Wolves by C. Gockel
When Amy prays for help, Loki the Norse God of Mischief and Chaos isn't the savior she has in mind.
Bitter Ashes by Sara C. Roethle
She's not their long lost fairy princess, she's their executioner. Legends of Norse Myth and Necromancy collide in this fast-paced Urban Fantasy with a dark romantic twist.
The Last Necromancer by C.J. Archer
For 5 years, Charlie has lived as a boy in the slums, but when she's arrested, her only means of escape lies with raising the dead. Now people are hunting her for her necromancy, but only one man succeeds in capturing her: a man known as Death, as compelling as he is frightening.
Nefertiti's Heart by A.W. Exley
1861. In a steam and mechanically powered London, feisty Cara Devon uses her dead father's secret notebook as a guide in her pursuit of powerful ancient artifacts.
Lost Wolf by Stacy Claflin
She's hiding a dark secret. It already killed her once.
Thunder Hunter by Rachel Medhurst
For Thor to Live, Thunder Hunter must die. For a thousand years, Thor's power has been inside Trygger. Can he finally defeat the Fallen Ones to give it back?
Sorceress Awakening by Lisa Blackwood
When Lillian finds herself facing off against vampires, help comes from an unlikely source—the stone gargoyle who has been sleeping in her garden. In a heartbeat, her ordinary life becomes far more complicated, and if her overprotective, shape-shifting guardian is to be believed, there's an evil demi-goddess just waiting for the chance to enslave them both.
Download FREE at: Amazon, Nook, iBooks, Kobo, & GooglePlay