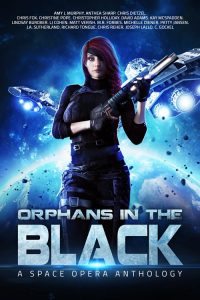 Get it FREE as part of Kindle Unlimited at Amazon U.S., United Kingdom, Canada, Germany, and Australia
A few years ago I wrote a short story called Murphy's Star. It's about a scientist traveling to a distant planet who picks up an alien *koffs* passenger during cryosleep.
Murphy's Star launched my career. But lately, it has fallen into obscurity. I decided to give it a new home. I wanted the new home to have awesome stories that my fans who'd read Murphy's would love. So, Orphans in the Black was born. This is a collection with a ton of heart. There is plenty of adventure, but the really big battles are internal. There are authors I know some of you love already: Lindsay Buroker, Christine Pope, M.R. Forbes, and others. There are also lesser known authors I think you'll fall in love with.
I loved putting this collection together. I'm sure you'll love it too. This collection is available for 99¢ for a limited time and is FREE in Kindle Unlimited.