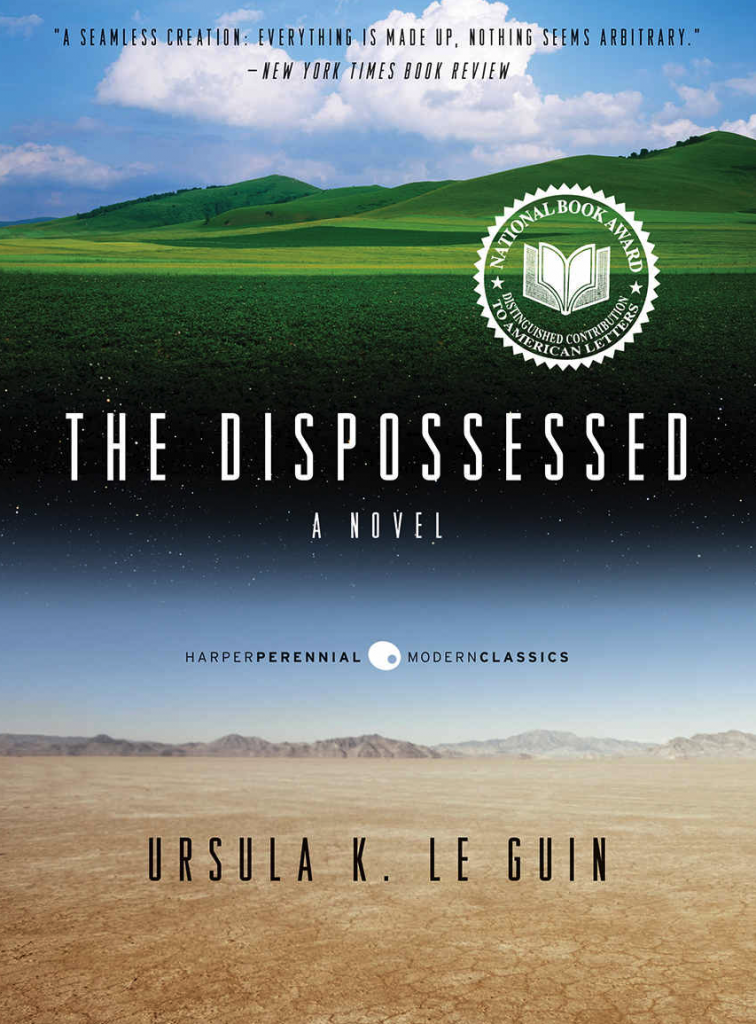 When I read what I want most is an exploration of big ideas, and characters I care about, who ring emotionally true. Ursula LeGuin's The Dispossessed delivers emotional integrity in spades, and it explores big ideas. Wikipedia says that it is "utopian fiction," although Ursula LeGuin is on record saying no society could be a perfect utopia.
The hero Shevek lives in a society based on the harsh moon world of Anneres, and their social structure is anarchy. "How can that be possible?" You ask. "Anarchy is by definition a lack of structure." Well, yes, remember what I said about no society being a perfect utopia? He's a brilliant scientist who can't get his work published because he runs afoul of the "hidden" structure of his society. The only place where he can pursue his research is the sister world of Anneres, the opulent world of Urress,  where, unlike his homeworld, there is great wealth and great poverty. The book is his quest to get there, complete his research without losing his life or his soul, and his quest to return home.
The lead character, Shevek, believes that his society is as close to utopia as can be possible, but that utopia needs to change and be regenerated to remain "utopic." He's a sincere, honest, idealist and I loved him, although I think, he is a classic case of an unreliable narrator.
I'm not sure I got the takeaways I was "supposed" to get from this book. To me this book wasn't about anarchism-communism or capitalism being one better than the other. To me this book was about how both societies had strengths and weaknesses, and both being very imperfect. In a way Shevek's journey to me was in trying to find a middle road between the two, and that middle ground was where real progress took place.

I wished I'd read this book in a book club, preferably with some people with interest in economics … and am going to post to my author Facebook page and hope that suffices. Anyway, I highly recommend it, and would love to hear your thoughts, and wish GDPR hadn't closed down my comments. 😛

Pick up The Dispossessed at Amazon, Kobo, Nook, iBooks, GooglePlay, & Scribd.