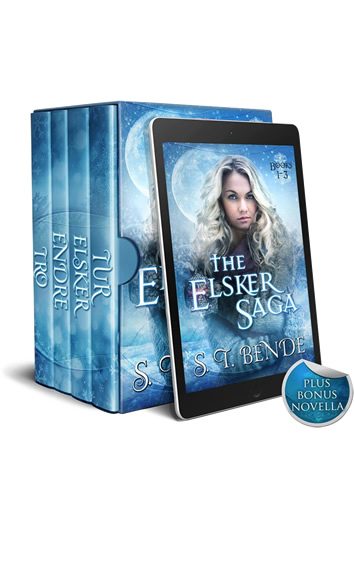 Get it at Amazon | Nook | Kobo | iBooks | GooglePlay | Smashwords
Kristia Tostenson expects new experiences when she heads to Wales for college … but falling in love with Ull, the Norse God of Winter, is more than she bargains for.
Ragnarok, the end times, is on the horizon and Ull is duty bound to protect his people. Although he is drawn to Kristia, he can't afford to be distracted by a mortal … especially when Odin, his king, has forbidden it. But Kristia may be more than even the Gods have bargained for …
Haunted by visions her whole life, Kristia holds the key to forestalling the end. Can she convince Ull that their love is worth fighting for, and that working together might be the only way to save his world … and her own?
This box set contains the entire Elsker Saga by Internationally Bestselling Author S.T. Bende. It has never been on sale before … and might never be again. Don't miss your chance to own it for only 99¢.
Get it at Amazon | Nook | Kobo | iBooks | GooglePlay | Smashwords
(Still want to buy the titles individually? Click here for links.)