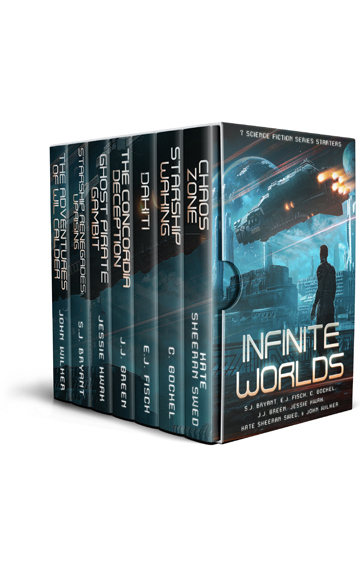 FREE as of July 9, 2023
Click for current price: Amazon US, United Kingdom, Canada, Germany, Australia
Apple, Nook, Kobo, GooglePlay
Discover the wonders and perils of the cosmos in a thrilling new collection of series-starting science fiction novels!
Packed full of interstellar heists, dangerous salvage operations, and unlikely heroes who take the fate of the galaxy into their own hands, each full-length novel promises to immerse you in captivating new worlds.
Dive into a brand new adventure – download the Infinite Worlds collection today!
About the Books:
Chaos Zone by Kate Sheeran Swed
Stranded in the most dangerous system in the galaxy, Sloane sets her sights on a bounty with a reward that could solve all her problems. When the Commander of the Galactic Fleet becomes her unexpected rival, Sloane must navigate an increasingly dangerous web of galactic politics in order to secure her prize – all while questioning her own chances of making it out alive.
Starship Waking by C. Gockel
In a galaxy plagued by terror, a starship's ominous dreams foretell impending doom, while a wolf-human hybrid with a haunting secret seeks answers to her nightmares and a pleasure 'bot discovers a message from an enigmatic sender. As their paths converge, the galaxy braces for a seismic upheaval, for the starship itself is awakening.
Dakiti by E.J. Fisch
In the formidable world of Haphez, Lieutenant Aroska Tarbic finds himself partnered with skilled operative Ziva Payvan – and the assassin who killed his brother. When they begin unraveling the threads of a dangerous conspiracy, they must overcome their animosity and work together to protect their race from peril. Amidst blurred alliances, their mission becomes a race against time, where trust becomes a fragile commodity and their own lives may be at stake.
The Concordia Deception by J.J. Green
Humanity's deep space colony expedition finally reaches its long-awaited destination – but the newfound world proves far from idyllic. With alien predators threatening the settlers and hidden saboteurs endangering their survival from within, Ethan, a descendant of generations aboard the ship, becomes the beacon of hope in a rapidly escalating crisis. As tensions mount, he must confront the perils lurking both within and beyond the colony's boundaries to safeguard the future of humankind.
Ghost Pirate Gambit by Jessie Kwak
Lasadi doesn't like strangers on her ship – but she'll need a bigger crew if she's going to steal a mysterious artifact from a dead pirate's long-lost space station. She takes a reluctant chance on a charming grifter named Raj, along with a skilled hacker and her genius little brother. But the station holds more than long-dead ghosts, and the crew's secrets threaten to undermine the job. If they can't learn to trust each other, none of them will make it out alive…
Starship Renegades Uprising by S.J. Bryant
Seeking vengeance after the defeat of her beloved rebel cause, Kari leads her crew on a salvage mission of an abandoned Imperium ship. But when Kari and her crew arrive, they find more questions than loot. Where are the crew? What happened to the other looters? And what is the ship's AI hiding in the restricted zones? The truth promises to change everything – but with the Imperium in pursuit, time is running out, and the price of answers may be their very lives.
The Adventures of Wil Calder by John Wilker
Desperate for a crew, Wil Calder assembles a team of misfits from across the Galactic Commonwealth. Their mission seems simple: break into a space station used by criminals to store their loot. However, they soon find themselves entangled in a galactic conspiracy that threatens the entire Commonwealth. Now, this unlikely group must rise to the occasion and prevent civil war, even though they're just a bunch of misfits and the sole human to have ventured beyond our solar system. The fate of the galaxy rests in their hands, and the pressure is on.