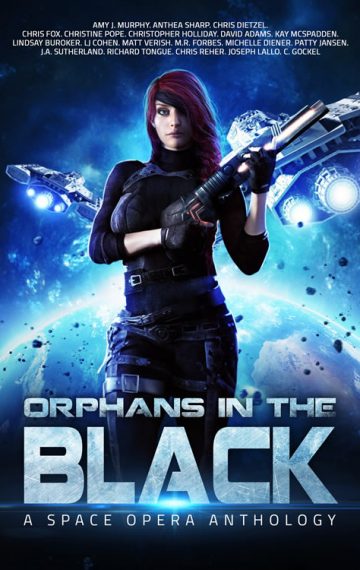 No longer available. I will be publishing Murphy's separately soon. Please sign-up for my newsletter for updates.
We're all Orphans in the Black …
Strap yourself in for nineteen thrilling short stories of space pirates, time travelers, aliens, AI, and more! Meet determined heroes forging their own path through the universe, men and women who won't go down without a fight.
Be transported to fantastical new worlds by award winning and bestselling authors. Download this exclusive collection today.
A Simple Thing~ by Amy J. Murphy
Luc faces an impossible mission. To prove his worth to an elite fighting force, he must singlehandedly hunt down all alien fugitives in the treacherous streets of Tasemar. The aliens, humans as they call themselves, are dangerous infiltrators in the realm. But Luc faces other enemies… and knowing friend from foe is no simple thing.
Note to Self ~ by Joseph Lallo
Justin prides himself on his planning. Little does he know, a mysterious woman named Ruby has been making plans of her own. Now he has to ask himself just how long-term his plans should be.
Gravitational Pull ~ by Christine Pope
On a mission to investigate a stellar anomaly, Dr. Lina Golan knows to expect the unexpected. But is her growing unease caused only by the voices in her head…or something far worse?
Autoscopy ~ by Matt Verish
On the precipice of completing her life's work, support for Rosa's groundbreaking project suddenly runs out. Faced with an uncertain future, bereft of family, friends, and a career, she will make a dangerous decision. It's a price she's willing to pay to see her creation take its first steps toward humanity.
Fog of War ~ by Chris Reher
A deep space transport delivering dangerous prisoners is intercepted, helpless when their artificial intelligence is disabled. Only a few guards and officers remain to defend their cargo from the alien invaders.
The Alien ~ by Kay McSpadden
At first he passed for human to hide from the dreary collective of his alien world. But no matter how much creativity, passion, sex, and even love he found on Earth, he knew he was living on borrowed time.
No Eye in Emily ~ by Patty Jansen
Two women depend on each other in a deep space mission, sharing nothing except their first name. Emlee discovers quickly that Emily is no ordinary passenger with no ordinary goal.
Void Mage ~ by Chris Fox
The gods are dead, but they are not gone. Their bodies lurk in forgotten corners of the void, waiting for those with the will to claim their strength. Like it or not, I'm about to try.
Lost Souls and Other Anomalies ~ by Christopher Holliday
The death of Kaleigh's mother brings her home to the colony of Bergemon, where a haunting connection unfolds between monolithic artifacts, an indigenous species, and whispers of an afterlife unique to the former residents of her world.
Spacer ~ by J.A. Sutherland
Jon Bartlett's path is clear before him. Finish his last year of schooling, then off on the family's ships to learn the intricacies of interstellar trade. Then a message of tragedy at home comes for him and his expected life is flung far out of reach.
Murphy's Star ~ by C. Gockel
Humans are alone in the universe. Or so I believed. That was before my research team picked up a stowaway … a stowaway that may the be key to surviving first contact with a deadly alien species.
Interference ~ by Michelle Diener
The tiny moon of Cepi is slated for destruction and all Nyha wants to do is get herself and her wards off of it. But someone else has plans for Cepi, and they think Nyha and her fellow orphans are just the ticket to getting what they want.
Stowaway ~ by Anthea Sharp
Liza Roth is on the run–from her past, from a tragic loss, from a powerful family who's placed a bounty on her head. Forced to leave the space station where she's taken refuge, Liza disguises herself as a maid on a luxury star liner, only to discover she's not the only fugitive on board…
In the Clutch ~ by LJ Cohen
For the lone Human crew member on a ship full of Quentarians, dealing with the overheated environment isn't her only problem–her supervisor actively dislikes her and most of the rest of the crew barely tolerate her. But when something goes drastically wrong with the atmosphere aboard, it falls to the thin-skinned, warm-blooded, small-statured woman to save The Endurance and her reptilian crew.
Iron Lazarus ~ by David Adams
Kwame Bahati donated his body to science. Pieces of him were removed for this and that; his kidneys were used to test a new medicine, his torso for training surgeons, and various other organs were designated as transplants for those who refused synthetic body parts for religious reasons. But his brain was sent to somewhere else entirely.
Dreams in the Dust ~ by Richard Tongue
Long Shot. A world abandoned, caught in the cracks between galactic empires. A desolate wasteland, home to the desperate, the lost, the betrayed. And for Triplanetary Agent Logan Winter, one more battlefield in his war with the shadowy forces of United Nations Intelligence. Both sides seek the answer to a twenty-year-old mystery, with the life of every soul on the planet at stake…
Freedom? ~ by M.R. Forbes
In the wake of a catastrophic failure, a machine learns what it means to be alive and free.
Combat Support ~ by Lindsay Buroker
After escaping from the medical research facility where she was isolated and experimented on for years, Masika has found a place among the crew of the Snapper. She likes the people, and she's finally doing something useful with her genetically engineered muscles. But her past hasn't forgotten about her, and when bounty hunters show up, she must worry not only about her own fate, but about that of her new friends as well.
The Last Astronaut ~ by Chris Dietzel
As the human population fades away, one man decides to spend the rest of his life amongst the stars. He isn't trying to escape the extinction. He's trying to get away from a personal loss.