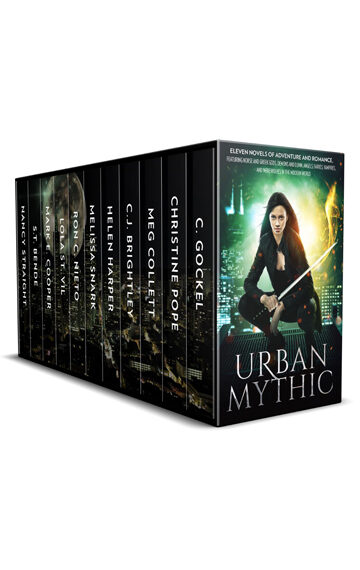 Get it FREE at Amazon US, Amazon UK, Amazon CA, Amazon AU, Amazon DE
Nook, Apple, Kobo, GooglePlay, Smashwords
A box set of MYTHIC proportions …
Want a little magic in your life? Ever wished faeries were real or for your own personal djinn?
Then these TWELVE worlds of action, adventure, humor, and romance are for you. Join the freshest voices in urban fantasy and paranormal romance as they bring magic into your life in the form of gods, demons, djinn, faeries, werewolves, and more.
This enchanting collection is FREE for a limited time. Download it before it's gone!
I Bring the Fire by C. Gockel
When Amy prays for help, Loki isn't the savior she has in mind. Can a nice midwestern girl trust a so-called god of mischief and chaos? With an ancient power calling him, can Loki even trust himself?
Chosen by Christine Pope
When a fatal fever nearly wipes out the entire world's population, the survivors of what became known as "the Dying" believe the worst is in the past. Little do they know…
The Hunted One by Meg Collett
Archangel Michaela has been framed for crimes against Heaven and must prove her innocence. Disgraced and wingless, she discovers the holy angels have a plan for Heaven, and it is one that may prove to be the End of Days
Things Unseen by C.J. Brightley
A moment's compassion draws history student Aria Forsyth into a conflict between human and inhuman, natural and supernatural, and she begins to discover the secrets of the Empire, the Fae, and what it means to be human.
Way of the Wolf  by Mark E. Cooper
Doctor David Lephmann is attacked when he tries to aid a shifter in trouble, and is thrust into a world of violence and mistrust where he must battle for a place among his new people. Can he survive the challenge?
Eros by Helen Harper
The Greek god of Love and the human who caught his heart—a love story that's endured for hundreds of years. Eros is a contemporary re-telling of the myth of Cupid and Psyche.
The Wild Hunt by Ron Nieto
Lily was meant to become a faerie doctor, a warden of humans and a keeper of balance, but disbelief and pragmatism led her away from the hidden world and into a mundane life. But she will be forced to face the truth, and the fae, if she wants to save her family.
Valkyrie's Vengeance by Melissa Snark
A thirty-year alliance that aligned wolves and hunters has shattered. When children are abducted, Victoria Storm, priestess of Freya and Odin's Valkyrie, must work with her worst enemy to rescue them.
The Blue Rose by Lola St. Vil
The most powerful Angel that ever lived…The dangerous demon who holds her heart… As he scoops her into his arms, away from the flames, he begins to understand, he isn't rescuing her; she's saving him…
Elsker by S.T. Bende
Kristia Tostenson just found out her new boyfriend is the Norse God of Winter—an immortal assassin destined to die at Ragnarok. Her orderly life just got very messy.
Blood Debt by Nancy Straight
A mythological romance: Camille is denied her father's identity until her mother's death. She discovers a family she never dreamed of and a world that should not exist.