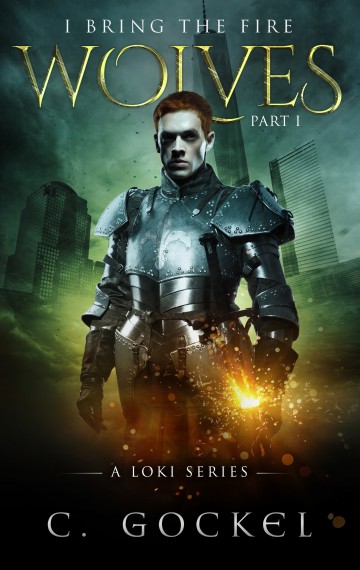 Available in:

eBook, Paperback, & Audiobook Format
FREE as of January 1, 2023
Click for current price: Amazon US, Amazon UK, Amazon CA, Amazon AU, Amazon DE
Nook, Apple, Kobo, GooglePlay, Smashwords, and Scribd.
Audio Available at Amazon & Scribd
Amy Lewis is on her way to her grandma's house. She's being chased by a very bad wolf. Galaxies away Loki is waking up in a prison cell, strangely without a hangover, and with no idea what he's done wrong — this time anyway. But he does know Thor is hiding something, Odin is up to something wicked, and there seems to be something he's forgotten…
In this urban fantasy tale that is equal parts "Dresden Files" and "American Gods," a very nice midwestern girl and a jaded, mischievous Loki must join forces to outwit gods, elves, magic sniffing cats, and nosy neighbors. If Loki can remember exactly what he's forgotten and Amy can convince him not to be too distracted by Earthly gadgets, Earthly pleasures, or three day benders, they just might pull it off…
This first installment of I Bring the Fire is for anyone who suspects chaos and mischief makers might have their own redeeming qualities, and anyone who just wants a good fantasy romp through modern Earth, ancient Asgard, and beyond!
What the Critics are Saying:
"I found this story to be an amazingly accurate retelling of the Norse Myths. Excellent, highly recommended, two thumbs on fire."
– Loki, Norse God of Mischief and Chaos (and God of Fire)
"Eight hooves up. As one of Loki's children, I approve."
– Sleipnir, eight-legged horse child of Loki
"This is not an accurate representation of the Norse Pantheon. Pure fantasy, a fairy tale, don't believe a word of it."
– Odin, All Father, leader of the Norse Gods
"I am supposed to be the hero in Norse Mythology!"
– Thor, Norse God of Thunder