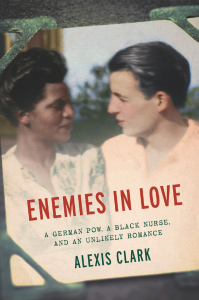 A few weeks back I saw an interview with this book's author and was fascinated. I spied the book at the Chicago Public Library, so I swooped in and grabbed it. Enemies in Love is not really a "romance," it is a non-fiction book about the slow integration of the country and the issues surrounding it, and how those issues swirled around one particular couple, Elinor and Frederick, a black nurse and a German POW who met at a POW camp during WWII. It is amazing, and sometimes really heartbreaking, and reveals a lot of "hidden" history I knew nothing about.
For instance, I had no idea that during WW2 at one point there was a shortage of 10,000 nurses. This meant that our hospitals in Europe and Asia weren't properly staffed and ready to accommodate men and women who were grievously injured. Nurses are critical to patient care (For any who doubt the importance of nurses: http://www.nber.org/papers/w23174), and this likely led to unnecessary deaths.
And I do mean unnecessary. There weren't allowed to be any more black nurses than an arbitrary quota. Also, they were only allowed to serve black service members until the very end of the war. Thousands of black nurses who passed the same nursing exams that white nurses took applied to join the army, but were turned away. It's really scary that leaders in our military were willing to risk the lives of young GIs rather than look past prejudice. (Side note: my grandfather served aboard a bomber as a gunner during WWII. He risked his life every time he went up in a plane, but he also almost died on the ground of pneumonia. I had to put the book down for a while after reading about the 'manufactured' nurse shortage.)
The book is also an excellent account of our POW camps. Despite some abuses, the U.S. actually did a good job of treating our POWs humanely. The same cannot be said of our allies, and certainly not of our enemies (a friend's grandfather survived the Bataan Death March–it is not an event you ever get over.) It was distressing to read how POWs in the U.S. were often treated better than our own people, but it also showed how such endeavors can be humane.
I also really enjoyed how the book documented the main couple's families. Elinor Powell's family had been upper middle class for two generations before the war broke out, and it was fascinating to see how they managed this before the Civil Rights movement. They had a strong work ethic, but it was also largely a function of where they lived: a small suburban town called Milton, Massachusetts. Her grandfather had been a trusted servant of a white family–so trusted they gave him a beautiful house. He was a barber, but quite skilled as a craftsman in general, and helped build homes for his white neighbors. His wife was an escaped slave, and their son grew up among their white neighbors as a popular and appreciated member of the community. Elinor's father got an apprenticeship, but when WWI broke out, he went overseas to fight for his country. He came home, got a civil servant's job, joined the local fire brigade, and helped out his neighbors when the recession hit and he was well off and they were suffering … basically he was an all around great guy that people liked. He married a black Southern school teacher who had grown up under very different circumstances.
As a result of her location, and her parent's hard work and belief in education, Elinor grew up in pre-Civil Rights America without ever really experiencing racism and never knowing poverty. Joining the segregated military and serving on a segregated base was a shock. The book goes to pains to mention that not all of the Army bases were segregated, a lot depended on the officer in charge, and some of those officers took very courageous stands not just on the bases, but in the surrounding towns. The officer in charge of Elinor's base however, was terrible … which might be why he got the job guarding over POWs to begin with.
And then there was Frederick's family … You know how most books and movies feature either Jewish protagonists or Christian Germans who fought against the Nazis? Well, Frederick's parents were straight up Nazis. It was interesting to read about them for that reason. When I meet people who are genuinely racist in this day and age, they are never only racist against one group–they hate a lot of people and have a lot of, well, let's just call them "issues." The same can be said of Fredrick's family … his dad was a successful businessman who used the war to get rich. He was also a serial philanderer who did nothing to hide his affairs and was never home. Frederick's mom was a socialite who must have been hurt by her husband's actions, but didn't fight it. She also really didn't care about her children as much as she cared about her social life. Despite their faults, they had Frederick, and he was not perfect, but he was a completely different person–and as such, was a complete disappointment to his parents. He loved art and jazz. The author speculates that he began to associate African American culture with all the emotion and love that was missing in his home. Maybe. However, the picture on the cover doesn't really do Elinor justice; she was striking. It may have been just her beauty, and the fact that she was a nurse and so obviously intelligent and caring that made Frederick walk up to her the first time he laid eyes on her and say, "You should know my name. Someday I'm going to be your husband."
It's a great book, and I highly recommend it for it's honest portrayal of real families dealing with real events.
You can get it on Amazon, and Barnes & Noble. It is also available at Scribd (for the moment, their catalog is variable.)