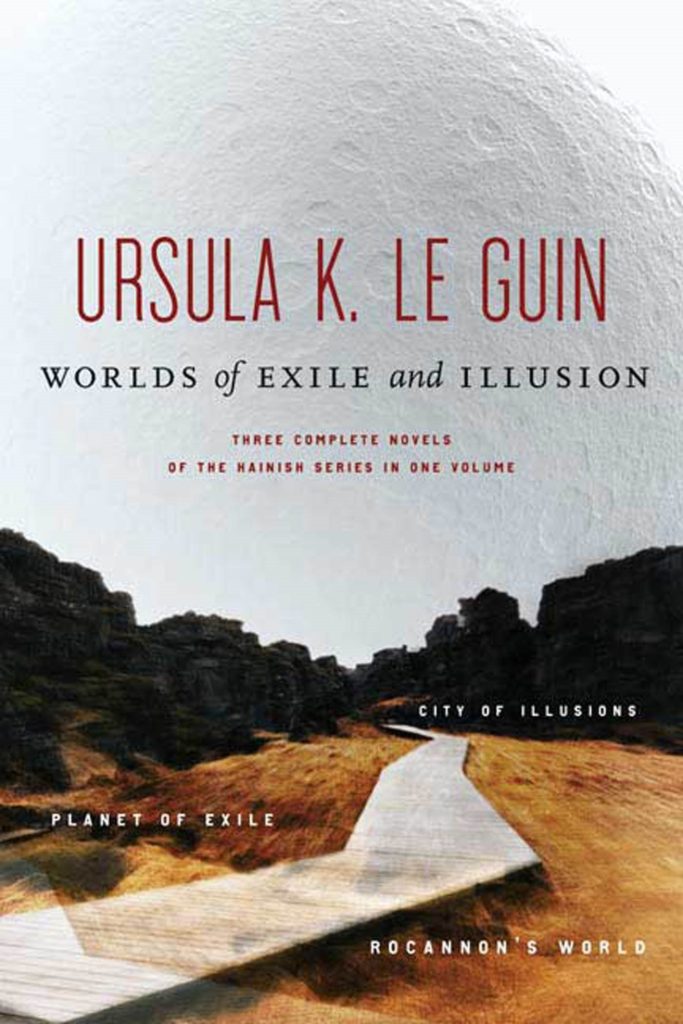 World's of Exhile and Illusion features three of Ursula LeGuin's earlier works in the Hainish Cycle. For readers unfamiliar with Ms. LeGuin's works, I would say start with The Left Hand of Darkness or The Dispossessed. There is definitely a difference in maturity in those: the themes run deeper through the story, the plots and the characters are stronger.
But if you have read those, read these. They are great books, even if they aren't quite at the level of the other two. (The other two are so good the bar is really high!) Also, if you love Darkness and Dispossessed as I do, returning to the Hainish universe is a joy, as is seeing Ms. LeGuin's writing improve through this collection (I can only hope that my writing grows as much.)
Read together, World of Exile and City of Illusions, the second two books in the collection really show you the writer LeGuin was becoming … together they are a jewel.
The first book, Rocannon's World, is very imaginative, and made me want to read LeGuin's Earth Sea series. It definitely has a fantasy feel to it–the steeds are colorful griffon-like creatures! There are musings in it on the nature of technology, and world-ending weapons. The influence of the Cold War is very noticeable. I enjoyed it, but … we're going to go back to World of Exile and City of Illusions because together they blew me away.
Exile and Illusions take themes that were hinted at in Rocannon's World and develop them further. How does a less technologically advanced society defeat a society that is more advanced? What sort of weapon can defeat a weapon capable of ending worlds in the blink of an eye from light years away? How do vastly different societies survive when they come in contact with one another? I'm not going to go into the plot because if I did it would only be a dim shadow of the books; but Ms. LeGuin answers these questions brilliantly.

These are classics, and Worlds of Exile and Illusion may be available as individual titles at your local library. Otherwise, you can pick up the collection at Amazon (used paperback may be cheaper than ebook!), iBooks, Kobo, Barnes & Noble, or GooglePlay. It's also available to borrow on Scribd.