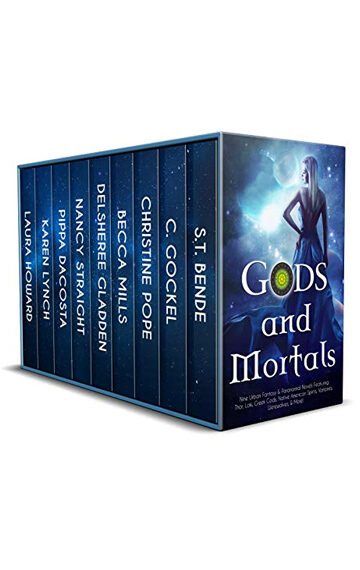 Get it FREE at Amazon US, Amazon UK, Amazon CA, Amazon AU, Amazon DE,
Barnes & Noble,  Apple , GooglePlay , Kobo , Smashwords
Nine novels with modern humans facing off against heroes, Norse and Greek gods, djinn, and monsters of old … over one million words of divinely (and diabolically) inspired fantasy, adventure, and romance.
Join the freshest voices in urban fantasy and paranormal, New York Times, USA Today, and Amazon bestselling authors, on unique journeys to heaven, hell, and worlds beyond.
Get this heavenly collection of paranormal romance and urban fantasy … before it's too late!
About the Books:
Elsker by S. T. Bende
Kristia Tostenson just found out her new boyfriend is the Norse God of Winter, and an immortal assassin destined to die at Ragnarok. Her orderly life just got very messy.
Wolves: I Bring the Fire Part I (A Loki Series) by C. Gockel
Amy Lewis is being pursued by a very bad wolf. Can Loki God of Chaos and Mischief save her, or even save himself?
Chosen by Christine Pope
When a fatal fever nearly wipes out the entire world's population, the survivors of what became known as "the Dying" believe the worst is in the past. Little do they know….
Nolander by Becca Mills
A young woman from small-town Wisconsin discovers that monsters are real — and that she might just be one herself.
Crossroads Saga by Mary Ting
Protecting Claudia from the fallen was half-angel Michael's his duty. Falling in love was never part of the plan.
Twin Souls by DelSheree Gladden
Uriah and Claire didn't believe in their tribal stories until Claire's poisoned and those myths spring to life to test their love and unravel destiny.
Blood Debt by Nancy Straight
A mythological romance: Camille is denied her
father's identity until her mother's death. She discovers a family she never dreamed of and a world that should not exist.
The Forgotten Ones by Laura Howard
Can the magical Tuatha de Danaan, the forgotten people of Ireland, help Allison restore her mother's sanity?
Relentless by Karen Lynch
Sara Grey lives a double life until a fateful encounter with a sadistic vampire and a fearless warrior exposes her powerful gifts and changes the course of her life forever.
Beyond the Veil by Pippa DaCosta
Muse must decide whether to trust a Prince of Hell, or the assassin sent to kill her. Little do they know, she's more dangerous than both.